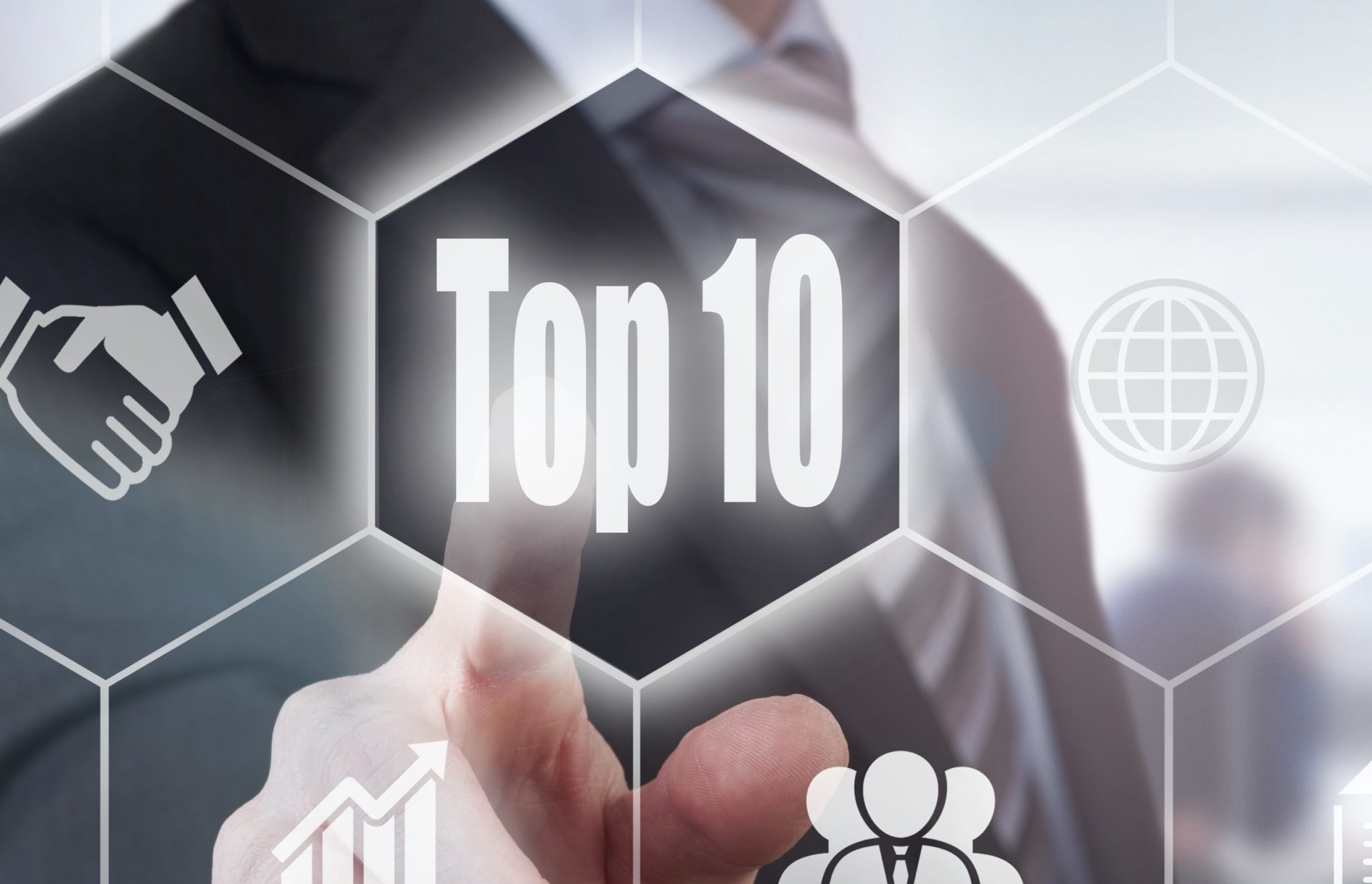 Ever since its inception, Bitcoin has managed to maintain its spot on the top the most sought out cryptocurrencies, despite incessant volatility.
While the year 2017 started with exponential growth, 2018 saw the prices crash.  However, there are still standout coins in the chaos.  Here are the Top 10, in our opinion.
The Top 10 Cryptocurrencies of 2018
Ripple (XRP)
Cryptocurrencies like Ripple is a guaranteed way of payment settlement that offers to its users an affordable and instant means of international payments. It was launched in 2012. It enables banks to carry out transactions across the international borders. Its transparency and low-cost operation make it well sought out mode of crypto payment for the users. The non-requirement of mining to confirm a payment makes its consensus ledger genuinely unique. Hence, it significantly reduces the use of computing power. It has become one of the most sought out digital currencies among the traditional commercial institutions which are trying to revolutionize the trend of cross-border payments.
Its xRapid will help businesses and financial institutions transact without friction.  It will also address the issue of "minimizing liquidity costs and making cross-border payment transactions faster. xRapid claims to significantly reduce the capital requirements for liquidity," as reported by CNBC.  In addition, SBI Holdings CEO Yoshitaka Kitao is bullish on $10 targets for the coin.   Even Brad Garlinghouse says banks will be utilizing the XRP products by 2019.   The more xRapid is utilized, the higher the value of the digital currency.
Litecoin (LTC)
The manufacturer launched Litecoin in 2011. It is among the earliest cryptocurrencies. Crypto-enthusiasts also know it as silver for its comparisons with Bitcoin which has earned the tag of 'gold.' Charlie Lee, a former Google engineer, created this digital coin. Litecoin uses an open source network for payments. No central authority has any control over this payment network. The system uses "scrypt" as the evidence to prove payment. One can easily decipher the "scrypt" with the assistance of CPUs meant for consumer purposes. Litecoin can generate a block faster than the Bitcoin. Therefore, the transaction can be confirmed more quickly by using this coin. An increasing number of merchants are consistently using Litecoin.
NEO (NEO)
Cryptocurrencies like NEO came to life in 2014. Due to its use of smart contracts on similar lines with Ethereum, NEO is also called "Chinese Ethereum." The year 2017 marked the best one for the digital coin. The value of each of its tokens increased from $0.16 in January to $162, within a year. Its support of programming has played an instrumental role in its success. It supports programming in many languages like Go, Java, C++, etc. Due to its amiable ties with the Chinese government, NEO has received many benefits.
Monero (XMR)
Monero offers the users a private, secure, and untraceable way of crypto exchange. It is an open-source crypto coin, launched in April 2014. The development of this crypto coin was based entirely on donations and driven solely by the community. The use of "ring signatures" technique helps Monero to maintain complete privacy in its operations. With this method, multiple group signatures appear with at least one genuine participant. As all these signatures look the same, the real participant cannot be identified. However, such exceptional security mechanisms have given Monero a dubious reputation. Criminal operations have often seen the use of this crypto coin to commit fraudulent activities.
Zcash (ZEC)
Zcash is an open-source digital coin with a decentralized system. It was launched in late 2016. Zcash offers sufficient privacy and transparency to its users to carry out transactions. Zcash records all the deals and publishes them on the blockchain. However, crucial details like the amount, recipient, and sender remain anonymous. Zcash provides its users the alternative of "shielded" transactions. Such operations allow the content to be coded through advanced cryptographic methods.
Tether (USDT)
Tether was created to match the significance of USD. This coin has its origin in Hong Kong. It has close ties with Bitfinex.  The company designed Tether with the purpose of exchanging into dollars in a fast and comfortable manner. It uses a decentralized blockchain technology. However, it doesn't function in a distributed method of smart contracts. Moreover, humans operate this coin which discourages people from using this cryptocurrency.
Cardano (ADA)
Cryptocurrencies like Cardano are relatively a new digital coin. Launched in 2017, Cardano offers a feasible solution to the most pressing issues that plague the crypto industry, i.e., scalability and interoperability. The crypto coin is currently engaged in finding a permanent solution to the time-consuming and expensive business of international payments. Its focus on this issue has resulted in the reduction of processing time for global payments from days to only seconds. For the most enthused Cardano supporters, it is an excellent alternative to Ethereum.
Dash (DASH)
Initially called darkcoin, it eventually assumed the name 'Dash.' Dash functions on a decentralized network of master code which enhances the anonymity factor. Thus, the traceability of transactions becomes almost impossible. Since its 2014 launch, it has managed to earn a significant fan following. The mining process in Dash is quite simple and one can carry it out by using a CPU.
At the moment, more than 3,000 businesses worldwide accept DASH payments. Nearly half of those businesses are in Venezuela.  In fact, the country has been quick to accept DASH thanks to hyper-inflationary issues.  Many are turning to crypto as a way to store value as the bolívar's exchange rate spirals far out of control.
Bitcoin Cash (BCH)
Bitcoin Cash has a significant place in the cryptocurrency space. After its split from Bitcoin, Bitcoin Cash has seen its share of success in the crypto world. The reason for the division with Bitcoin was the issue of scalability. While Bitcoin has a strict limit on the size of blocks which can't be more than 1 MB, Bitcoin Cash has a higher volume of 8 MB. The idea behind having larger blocks was to facilitate faster transactions.  Bitcoin Cash has also done away with the Segregated Witness Protocol, which used to impact block space.
EOS (EOS)
EOS is one of the latest cryptocurrencies that has made it to this list. The company launched it in June 2017. EOS shares a lot of similarities with Ethereum because of its design after Ethereum. Hence, similar to Ethereum, it also provides the developers a platform on which they can build decentralized applications. The initial coin offering of EOS was the most profitable one in the history of crypto coins. It raked up an offering of $4 billion. The lack of the mining procedure makes it quite revolutionary in the crypto space.
Stay tuned to this report.  We're likely to add even more as cryptocurrency adoption picks up momentum.
Want the latest crypto news? Join our Telegram Channel